Computer Repair West Palm Beach
Computer Repair West Palm Beach aim to offer exceptional customer care. Every computer problem small or big will receive the same amount of attention and expertise. Global Fuze technicians will carefully pay attention to every detail of PC issues. Computers in today's world become more and more complicated and not many repair companies are willing to fix them. Many prefer to offer you a new or newer computer instead of repairing a broken one. We are not one of those companies. We optimize your computer or laptop to run faster, reliably and eliminating problems you may currently have. If your computer has a problem, but you are not sure what it the cause of the problem? We can give your computer a complete overhaul so it will run like the day you bought it. You can check if your computer is still under manufactured warranty here. If not we can take care of it. We repair all Computer and Laptop problems: Internet Connection Issues, Virus Removal West in West Palm Beach, Hard Drive Repair, Networking Problems, LCD Laptop Screen Replacement, Motherboard Repair, DC Power Jack Repair, USB Connector Replacement, Sound Issues, Inverter Replacement, Power Connector Repair, Windows 8 or 10 Reinstallation, Upgrades and more. We put our customers first. We listen to you and help you find what you need. Come visit to see what we are all about:
Leading Quality Service
Quick Turnaround
Friendly and Approachable
And much, much more!

Computer Repair West Palm Beach
Satisfaction Guaranteed we fix it or you don't pay!
All Laptop & Desktop Problems
For all your computer repair issues visit us today: computer repair West Palm Beach! Our dedicated and experienced staff can repair all hardware and software issues: virus removal West Palm Beach! We have the expertise to resolve all your laptop issues: laptop repair West Palm Beach! And we also service and repair smart-phones, so if you have an Apple iPhone or iPad, then visit us today: Apple repair West Palm Beach! We are a local business and our friendly team are always here to help you with all your hardware and software requirements. Computer repair West Palm Beach: being a local store means that we are always on hand to offer help, whatever your computer hardware or software issues. Laptop repair West Palm Beach: and because we are local, you can always just drop by to introduce yourself and find out about all our services. Apple repair West Palm Beach: looking for some advice about your iPhone or iPad? Then visit us today – we are here to help! Virus Removal West Palm Beach: if your computer or laptop has been infected with a virus then bring it to us and we will happily repair it for you. We have all the latest anti-virus software!
Laptop PC or Apple Computer Repair West Palm Beach
We recently won an Award for top 18 best computer repair companies in West Palm Beach, FL
Check it the link below
https://www.expertise.com/fl/west-palm-beach/computer-repair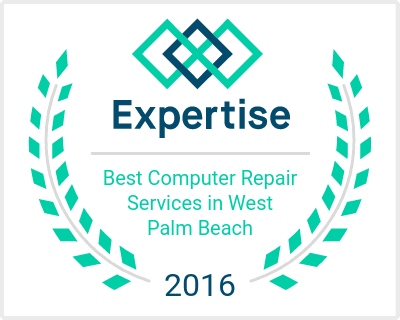 You can also visit our new MacBook repair website